---
Letter from the First Presidency
While going through some books in President Larsen's bookcase, which is still in my office, I ran across one book which provides some quotes from Joseph Smith, Jr. The quote is from a letter that he wrote to the Traveling High Council and elders of the church then located in Great Britain. After some usual greetings and thoughts, he wrote:
" It is likewise very satisfactory to my mind, that there has been such a good understanding between you, and that the Saints have so cheerfully hearkened to council, and vied with each other in the labor of love, and in the promotion of truth and righteousness. This is how it should be in the Church of Jesus Christ; unity is strength…Let the Saints of the Most High ever cultivate this principle, and the most glorious blessings must result, not only to them individually, but to the whole Church – the order of the kingdom will be maintained…
Love is one of the chief characteristics of Deity, and ought to be manifested by those who aspire to be the sons [and daughters] of God. A man filled with the love of God, is not content with blessing his family alone, but ranges through the whole world, anxious to bless the whole human race. This has been your feeling, and caused you to forego the pleasures of home, that you might be a blessing to others, who are candidates for immortality, but strangers to truth; and for so doing, I pray that heaven's choicest blessing may rest upon you."
During those early days of the church, some very humble Saints came from England. Most of them came out of poverty and sacrificed greatly to come to America and join with the Saints here. Many of them left their families, friends, and jobs. They came with a desire to be a part of the building of Zion and to live with a people who lived in Christian love.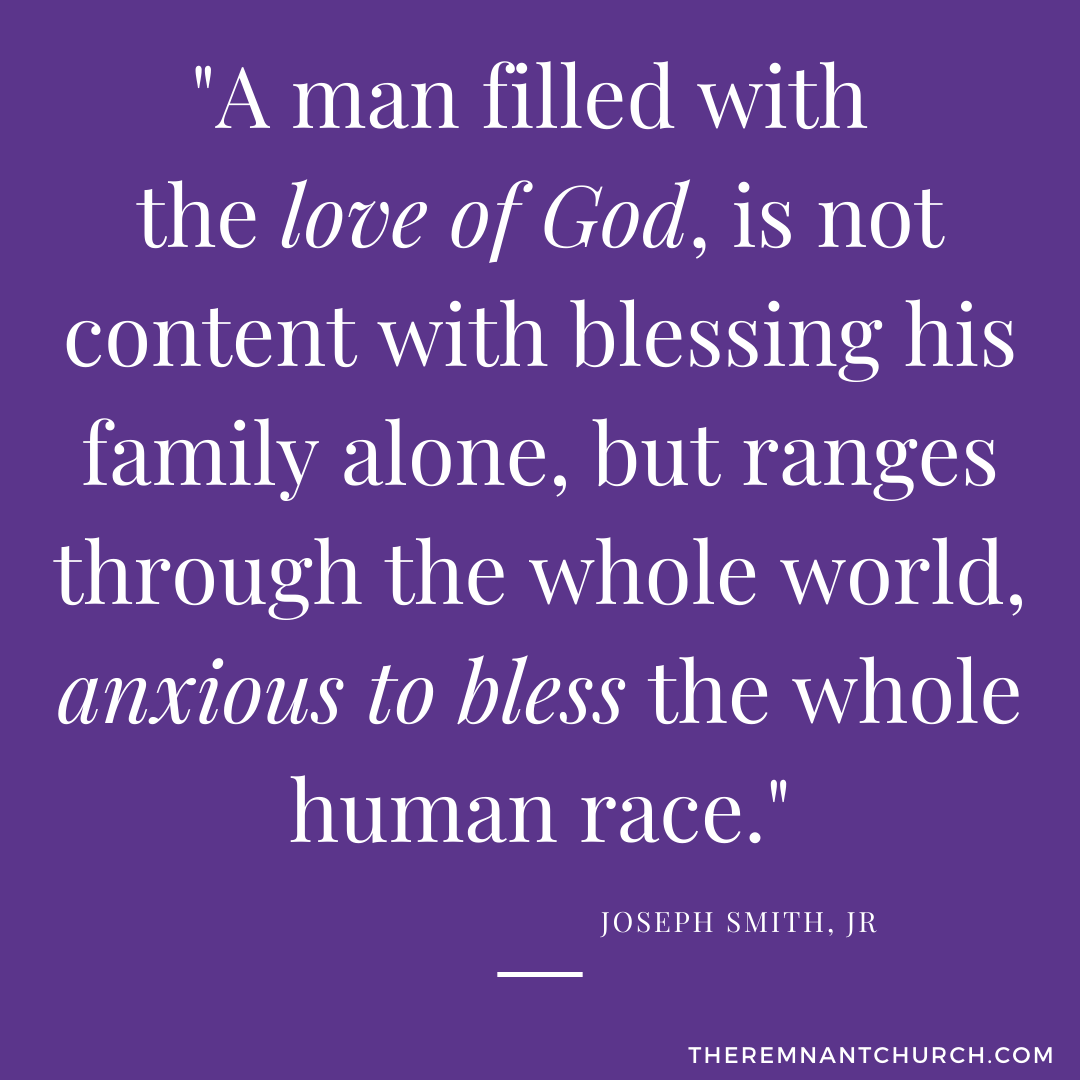 This is also true of the missionaries who left America to go overseas. They left their families, friends, and jobs, and taking very little resources with them, taught and preached what they knew was the gospel. All of this came at the direction of God; sometimes, they went with very little notice and with very little training, just a strong desire to serve and follow God.
These were people who realized that Christian love is very important. These were people who desired to live their lives showing grace and charity toward others that all might benefit. Should not we do the same? We don't have to travel as they did, but living out the principles of the gospel is something we can do daily wherever we are. In the paragraph from Joseph Smith, we are reminded that people who are filled with the love of God will react to that love not only in their families but will desire that all of the world can benefit from the messages of God.
In a world that wears many blinders and has many self-interested ideals, this message of the available blessings we have in the gospel needs to ring out to all. All people are candidates for God's Kingdom if we and they will strive to be like Him.
"Wherefore, my beloved brethren, pray unto the Father with all the energy of heart, that ye may be filled with this love (charity is the pure love of God) which he hath bestowed upon all who are true followers of his Son Jesus Christ, that ye may become the sons of God, that when he shall appear, we shall be like him; for we shall see him as he is, that we may have this hope, that we may be purified even as he is pure. Amen" Moroni 7:53
"By these things we know that there is a God in heaven who is infinite and eternal…and that he created man male and female; after his own image and in his own likeness created he them, and gave unto them commandments that they should love and serve him the only living and true God, and that he should be the only being whom they should worship." D&C 17:4a, b
May we do all that we can to live the gospel and to spread the gospel.
As has been noted, some of our branches have started or will soon start to worship in our sanctuaries. Please keep in mind that this is not a return to "normal." There are guidelines that we have been given that will help keep us safer as we gather once again:
Social distancing is still in effect. Families (those related and living in the same house) may sit together. Others should sit a few feet (at least six feet) away.
Wearing a mask is recommended.
Using hand-sanitizer is recommended.
Touching surfaces should be minimized.
Be considerate in the lobby or foyer. We shouldn't be handshaking or hugging.
The branch presidents are meeting or have met to consider ways to protect the people attending. As has been said, even one person who unknowingly has the virus could infect others, some of whom have health concerns already. Those who feel uncomfortable meeting together should still stay home and watch on live stream and know that we miss them, but that we understand.
Our love for each other is the primary goal. Keeping us all safe is a part of that love. My hope is that we will love our fellowmen enough to do what is needed to keep the people I meet safe.
Terry W. Patience
For the First Presidency